Our resources will be "marked" with standards designations
associated with two standards documents.
(to be completed for the 2020-2021 school year - with markups starting this year)

Topic Standards Documents:

NGMS

CCSS
• NGMS
- New York State "Next Generation Mathematics Standards"
• CCSS
- "Common Core State Standards for Mathematics"
On the "opening pages" of each MathBits' subscription area and each MathBitsNotebook subject area, the standards are listed by their
accompanying codes and numbers as stated in each standards document.
The key for the coloring of the standards numbers is as follows.

RED
(NGMS & CCSS), BLACK (CSSS only),
Bold RED
(NGMS only)
The New York State "Next Generation Mathematics Standards" are
a re-design of the Common Core State Standards.
As a result, NGMS and CCSS overlap in numerous areas,
as can be seen by the number of shared standards.
For Notebook Users:
As was done in NY, other states have also redesigned their mathematics curricula while maintaining many of the CCSS standards (perhaps with different wording or placement). For these states, we are continuing to list the CCSS designations in the hope that it will be advantageous in helping to place the materials into their new curricular designs.
PARCC and SBAC Testing:
Our CCSS designations continue to coordinate with both SBAC and PARCC assessments.

Calculator use:
In keeping with the PARCC calculator policy, we originally coordinated our materials and references with the TI-84+ family of calculators. This has continued, with additional references to TI-73 and TI-Nspire.

For Subscription Holders:
In your subscription area, you can find a complete listing of the formal standards
for both NGMS and CCSS by "clicking" on each major section heading (see graphic below).
You will be able to see how NGMS and CCSS overlap,
as well as any additional designations appearing in NGMS.



The changes made by NGMS will be indicated in "blue" printing.


All listings appearing in "black" appear in BOTH CCSS and NGMS.
Changes, in blue, may include "additions", "re-writes", or "removal of a standard".

These standards listings will give you a quick overview
of what's needed under both CCSS and NGMS.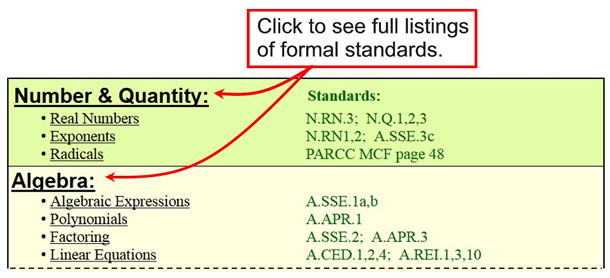 The teacher rules!
We have indicated where we "feel" our materials will best fit regarding standards placement for CCSS and NGMS. It does NOT mean that our designation of a resource is the only appropriate place for that resource to be utilized.
Regarding grade level placement, the teachers are the best people to determine what best "fits" with their classes. Does my class need more review of concepts? Is my class ready for more advanced materials? Did my curriculum move that topic to a different grade level? The teachers will need to answer these questions when examining our resources.